Need. I. Say. More?

This day has been the WORST of all the other days that I've been stuck at home.

o.n.e : my uni web server decided to crash on the day that all year two students were due to do their add/drop exercise.



SINCE LAST NIGHT!
*how bloody convenient*

t.w.o : the electricity was due to be cut off today so that the workers outside could change the electrical riser's wires. so i was devoid of electricity from 8.30am to about 3.30pm just now. so there was no fan. no tv.no internet. even the fridge was out. thank god for the phone. i thot i was going to die.


thank god for my girlies.


so yesterday i managed another quick outing wif ma gerls...yeay! went to changi airport. picked up shereen frm werk wif sha and azimah. poor shereen, she was soooo sleepy. i probably bet that she's sleeping right this moment too.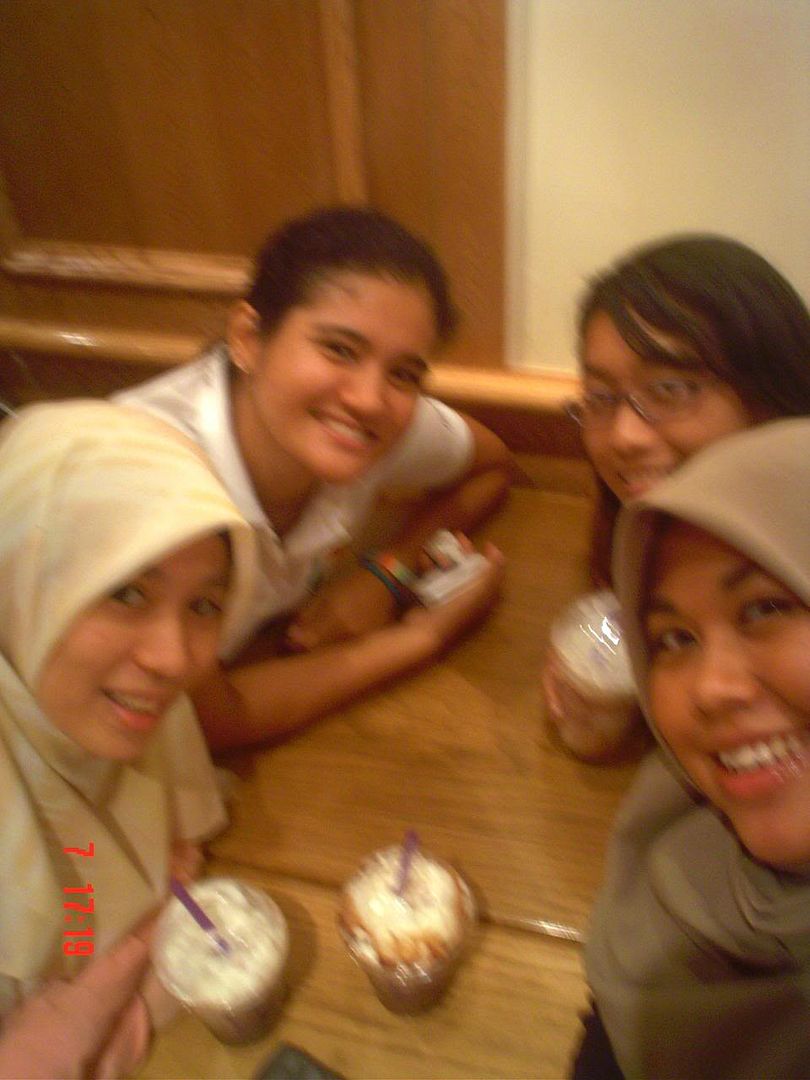 finally getting the shot rite!

went to bugis. ogled at all the pretty stuff at seiyu. i promise u dorothy i will come back and bring u home!

walked walked walked until we worked up a thirst for some of coffeebean and tealeaf's new belgium choc ice blended! it was soooooo gooooodd...my tastebuds were dancing with delight! haiz. i love u so belgium choc ice blend. keep it on the menu pls!!!
Dinner was held at ZamZam with 4 of us settling for the same thing: mutton chop....superbly YUMMY! Zak had the mee goreng mamak to which she surrendered after only going through about half of it. then off we went to snap snap peekchures like a couple of cam whores.
aren't we all happy?

bumped into a couple pple. Rofitah at coffeebean and then Fizzy at ZamZam. So happy to see you all!!!


I just have one more thing to add. YJC Girls have been crowned floorball champs!!! I love you gerls!!! Congrats are in order! Thanks especially to Coach Ngasti. I knoe u've been waiting for this one a LONG time! Yeay! We have a trophy! Keep up the gd werk gerls!

Now i shall go back to nursing my poor little finger that got caught at the door of Golden Landmark. (yes it was a bloody mess with some of my skin coming off) And now its a bit swollen.

I guess this will probably be my second last post till i go back to KL *again*
Fin.